About:
Living Waters Fellowship is a church that provides afterschool programs, adult ESL classes, and breakfast to the local community.
Mission
To proclaim the gospel of Jesus Christ by reaching out to those lost in cycles of poverty in our neighborhood and to facilitate reaching the lost throughout the NYC area, as well as the world.
Our Partnership
Mobilizing Volunteers
Over 250 volunteers serve with Living Waters each year, serving Saturday community breakfasts, teaching ESL and getting to know neighborhood kids through sports and crafts.
Creativity From Our Volunteers
A team of committed HFNY Volunteers started providing ESL tutoring over five years ago to meet a need of many of the families attending the Saturday morning breakfasts.
Making Grants To Fund Programs
Our grant funds support Living Waters' community meals as well as youth programming, including the after-school programs and weekend sports and crafts.
When times are rough, I come over here and have a really good breakfast, and it holds me out all day. It's like having a family, too. You have a place you can come, and everybody knows your name. They remember your name here!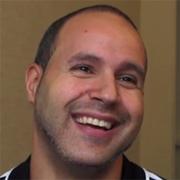 David, Guest